Frequently Asked Questions (FAQ)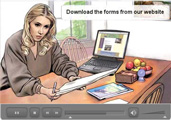 Running time: 3-1/2 Minutes
Prescription: An order by your MD (either primary or specialist) for Physical Therapy services.
Referral: Your primary MD, acting as a gate keeper for the insurance company, is recommending you for Physical Therapy.
New York is a Direct Access state meaning you are eligible for 10 visits or 30 days without a prescription, whichever comes first. Some insurance companies require a prescription in order to process payment. Our team at Chris Prentiss Physical Therapy will verify whether you need a prescription or not with your insurance company.
Medicare does not allow direct access; therefore, you do need a prescription.
Some insurance's do require a referral to receive physical therapy. In most cases this would come from your primary MD. If your physician requests, we can give you our provider ID when you call so the referral may be generated. Once your MD submits it, we can often retrieve it electronically from your insurance companies' website. If we cannot retrieve the referral electronically then our team will notify you so that you can coordinate directly with your MD.
Some insurance companies require us to send a written request to the insurance company prior to the patient's first visit.
When we verify your benefits, we will find out if your insurance company requires precertification and will then follow their procedures to obtain it for you.
Each insurance company has different policies. Some are payable at a certain percentage making you responsible for the balance. Some require co pays. When we verify your benefits, we will outline any responsibility you may have prior to your visit.
As a service to our patients, we will gladly file claims with your insurance company on your behalf. In order to appropriately submit claims, we will need to obtain a copy of your insurance identification card as well as some personal information to ensure that we have the necessary information.
Upon verifying your insurance benefits, we will find out how many visits you are eligible for.
Medicare has a monetary cap each year. Some insurance companies limit the number of visits per injury and/or per year. We will let you know prior to beginning physical therapy what you are eligible for. Once your evaluation is complete, we will work out an individualized program to maximize your potential for healing.
There are many questions that may come up along the way. The entire team at Chris Prentiss Physical Therapy will do everything they can to give you an understanding of your particular insurance questions so that you may concentrate on healing and getting back into action.